The Huawei Nova 11 series will be presented on April 17th. A leak claims there will be a variable aperture camera.
Huawei has officially announced that it will launch the Huawei Nova 11 series smartphones on April 17, 2023 at 2:30 p.m. China local time. The promotional poster of the upcoming line of smartphones also shows the back cover design of the phone.
According to the poster shared by Huawei, the overall look of the new phone is reminiscent of that of the Huawei P60 series; has a rear camera module with an oval shape, the three cameras are arranged vertically, with the main camera enclosed in a large ring in the middle. Interestingly, the back of the phone features a new texture that looks like a vegan leather finish. The HUAWEI logo and Nova reflect the color of the back.
The slogan "Dare to shoot, dare to be finest" used by Huawei for the launch event indicates that the new phone will have exceptional photographic capabilities, perhaps even better than its predecessors.
According to a recent leakThe Nova 11 series will use variable aperture camera technology that allows users to adjust the camera aperture and the amount of light, a feature that is ideal for portrait photography, where a large aperture can blur the background and bring focus to the subject.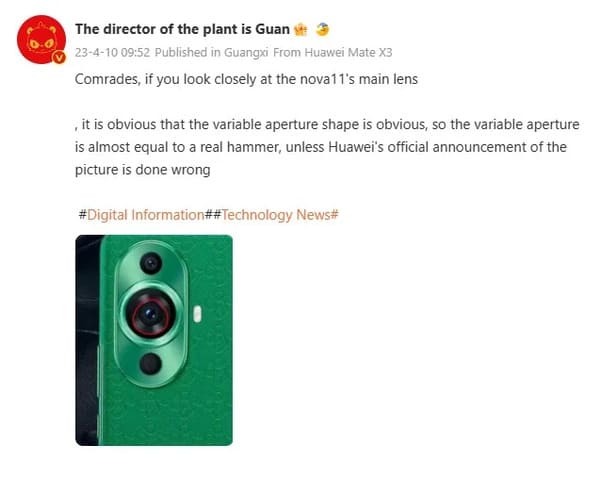 The Nova 11 series will also be equipped with a RYYB color matrix for the main camera sensor, which improves the quality of the images captured in low light conditions, making them brighter and more vivid. In terms of performance, the Nova 11 series is said to be powered by a Qualcomm processor that promises great performance.
In addition to the Nova 11 series, Huawei is also expected to launch the Huawei Watch 4 series and Band 8 at the event.