According to PerfectRec, the Galaxy S23 Ultra is the most popular Samsung flagship in the line's history. On the other hand, Apple's iPhone 14 suffered from poor sales of the "cheaper" models due to the lack of new features and improvements to justify the purchase.
The Galaxy S23 Ultra has captivated audiences and broken sales records in just three months since its launch. Whether because of its outstanding cameras or its advantageous performance, the model has reached a new milestone this Wednesday, May 31, being the most popular Samsung flagship smartphone of the famous recommendation site PerfectRec.
Based on reviews from 388,000 users, the company's analysts noted that the Galaxy S23, Galaxy S23 Plus and Galaxy S23 Ultra have returned to positive reviews after a sharp drop in the popularity of the brand's flagship phones over the past year S21 reviews.
The data above shows that on average 75% of the Galaxy S23 reviews were received "five stars", i.e. the best possible rating. This puts the current generation of the brand's flagships on a par with the Galaxy S21 and Galaxy S8. It turns out that only 61% of users gave the Galaxy S22 five stars.
Analyzing the current-gen trio, you can see that the Galaxy S23 Plus is even more popular than the Galaxy S23: 78% of users give it five stars. According to this, the Galaxy S23 Ultra, which received 86% of the highest rating, is the most popular model in the history of the series PerfectRec.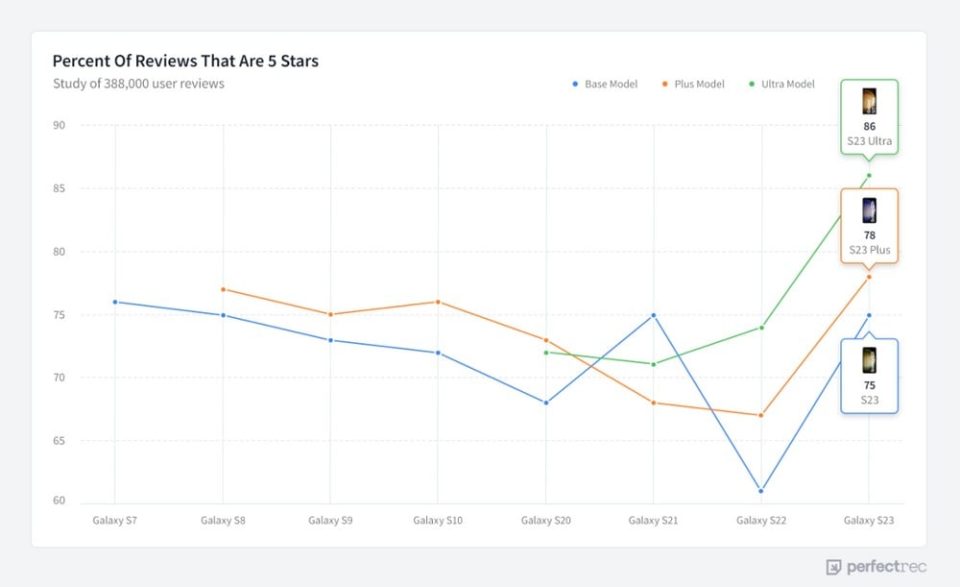 The sudden drop in popularity over the past year can be explained by a few shortcomings of the Galaxy S22. Performance problems of the Snapdragon 8 Gen 1 and Exynos 2200 as well as rumors about a cheap cooling system for all models in the series had a negative impact on user impressions.
The Galaxy S23 has solved these problems with a much more efficient processor, the Snapdragon 8 Gen 2, and larger vapor chambers that help control the heat generated during intensive use of the device.
Dissatisfaction with the iPhone 14
In return for Samsung's sales success in 2023, Apple suffered bitterly from poor sales of the models "cheaper" of the iPhone 14. The lack of new features and improvements that would justify the purchase meant that the demand for the iPhone 14 and especially the iPhone 14 Plus was well below the expectations of the Cupertino giant.
The data from PerfectRec revealed that only 72% of iPhone 14 users gave the model a five-star rating. This figure can be compared to the whopping 80% of users who gave the iPhone 13 the same rating in 2021.